Hockey Operations & Front Office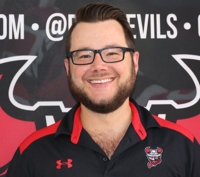 Rob Lippolis
Director of Broadcasting & Media Relations
Phone:
607-743-1378
E-mail:
Rob Lippolis enters his second season as Director of Broadcasting & Media/Community Relations for the Binghamton Devils in 2018-19, after joining the Binghamton Senators in 2016-17. The native of Windsor, NY joined the staff after spending 2014-2016 as Director of Broadcasting & Media Relations with the Omaha Lancers (USHL).
Before moving to Nebraska, Rob spent three seasons in Texas as the play-by-play broadcaster with the Corpus Christi IceRays (NAHL). The graduate of SUNY Oswego earned his bachelor's degree in Broadcasting & Mass Communication and served as the radio broadcaster for the Lakers.
Rob started out as a broadcast intern for the Binghamton Senators for six years and was able to call several games for both the Senators from 2006-2011 and in 2014 for the San Antonio Rampage. He currently resides in his hometown of Windsor, NY.