Hockey Operations & Front Office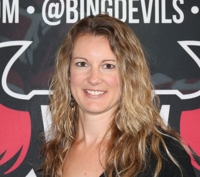 Kara Kellett-Williams
Accounting & Team Services | Ticket Operations Manager
Phone:
607-722-7367
E-mail:
Kara is in her second season with the Binghamton Devils. Kara re-joined the front office in Binghamton as the Accounting/Administrative Assistant. She originally joined the Binghamton Senators front office as the Assistant Ticketing Manager/Accounts Receivable Specialist in 2006.
As a result of growing up in Binghamton, Kara became a hockey fan at a young age.
After high school, Kara attended Broome Community College for Business Administration and St. John Fisher College in Rochester, NY for Sports Management. Before joining the Binghamton Senators, she was employed by the Greater Binghamton Sports Complex and also enjoyed a short stint with an arena football team that never quite got it's feet off the ground, the Binghamton Brigadiers.
In addition to hockey, Kara is a fan of a variety of sports especially football, tennis, volleyball, softball, and skiing.