Hockey Operations & Front Office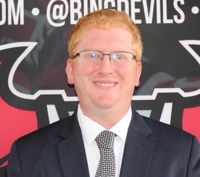 Connor Gates
Director of Game Night Operations
E-mail:
Having been a hockey fan dating back to the Binghamton Whalers, Connor is in his first year as Director of Game Night Operations for the Binghamton Devils.
This is not Connor's first venture into professional hockey in Binghamton. He previously served as the back-up P.A. Announcer for the Binghamton Senators, even broadcasting two games on the radio during the team's Calder Cup winning season in 2011.
The Chenango Valley Alumnus worked almost 20 years for the Binghamton Mets Baseball Club in positions that included Bat Boy, Clubhouse Manager, Promotions Director, Game Day Coordinator, Special Events Coordinator and Director of Community Relations. Connor has also worked for I Heart Radio and Broome County Executive Jason Garnar before joining the Devils Front Office.
Connor enjoys the performing arts, both as an actor and a director. He continues to be active in the hockey community as a youth and adult league referee. He is an avid NY Mets fan. But most of all he's the proud father of a beautiful 8-year old girl.