Hockey Operations & Front Office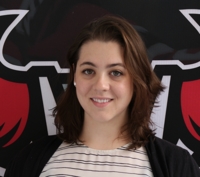 Addie Sejan
Manager of Media/Social Media | Community Relations | Marketing
E-mail:
Addie enters her first season with the Binghamton Devils as the Manager of Media/Social Media & Community Relations.
A Binghamton, NY native, Addie graduated from Binghamton University with a Psychology degree. During her time at Binghamton, she found her passion for sports journalism and public relations. This inspired her to earn her Master's in Communication from the Newhouse School at Syracuse University. Addie is now in her second year in the world of professional sports. She began her career as an intern for the Syracuse Crunch before moving back to work with the Binghamton Devils.
When Addie is not at the office, she enjoys spending time with friends and family, especially her dog, Berkley. She is an avid curling, tennis, and hockey fan, but enjoys watching many different sports live and on television.