Hockey Operations & Front Office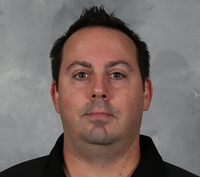 Scott Stanhibel
Athletic Trainer
Scott handles all medical needs for the players and enters his second season with Binghamton after spending four seasons in Albany.
Scott's first season in professional hockey came in 2008-09 with the ECHL's Phoenix Roadrunners before spending the next four seasons with Trenton, also of the ECHL. Before working in professional hockey, Scott spent time at a small University in North Carolina and three years at a Tempe rehab clinic.
Scott attended undergraduate school at New Mexico State University and graduate school at North Carolina State University. He grew up in Phoenix, AZ and enjoys playing golf in his free time.