Hockey Operations & Front Office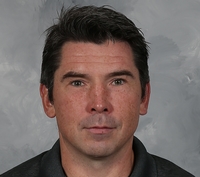 Sergei Brylin
Assistant Coach
Sergei Brylin enters his second season with the Binghamton Devils after spending four years as an assistant coach to the New Jersey Devils' affiliate team. Before becoming an assistant coach, Brylin retired from hockey in 2012 after spending four years in Russia's Kontinental Hockey League playing for the SKA St. Petersburg and the Metallurg Novokuznetsk.
A native of Moscow, Russia, Brylin was drafted by the New Jersey Devils in the 1992 NHL Entry Draft in the second round (42nd overall). Brylin spent 13 years with the New Jersey Devils, winning three Stanley Cup Championships in 1995, 2000 and 2003. He is one of five Devils' players who played for all New Jersey Devils' championships.
In his career of 765 games played, the diverse defensive forward acquired 308 points, consisting of 129 goals and 179 assists while shifting between center and wing. Of 109 playoff games he participated in, he had 15 goals and 19 assists with a total of 34 points and averaged 15:26 of ice time.
Sergei and his wife, Elena, have three children: Anna, Fyodor and Maria.