Hockey Operations & Front Office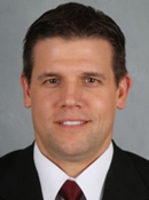 Rick Kowalsky
Head Coach
Rick Kowalsky enters the Binghamton Devils' inaugural season as a two-time Coach of the Year winner. Kowalsky, one of only two people who has won Coach of the Year honors in both the ECHL (2009) and AHL (2016), has spent the last seven seasons as head coach for the New Jersey Devils' affiliate team.
Promoted to head coach in 2010, after serving as head coach for three seasons with the ECHL Trenton Devils, Kowasky posted a 264-222-28-41 all-time record over the last seven seasons with the New Jersey Devils' affiliate team. In the past four years, he has achieved three Calder Cup Playoff appearances and was inducted into the ECHL Hall of Fame in 2017.
Prior to coaching, Kowalsky spent four seasons playing major junior league hockey with the Sault Ste. Marie Greyhounds in the Ontario Hockey League, as well as 12 seasons playing professional hockey. The Simcoe, Ontario native was selected by the Buffalo Sabres in the 10th round of the 1992 NHL Entry Draft (227th overall). Kowalsky played 183 games in the AHL and 516 games in the ECHL. During this time in the ECHL, he ranked 19th with 221 goals, 21st with 329 assists, and 15th with 550 points. Kowalsky is also ranked 7th in ECHL playoff history with 32 goals and 30 assists in 68 postseason games.
The right wing participated in the 1995 and 2003 ECHL All-Star Game's, and he helped the Trenton Titans when the Kelly Cup in the 2005 ECHL Championship. He retired from playing hockey after the 2004-2005 season with the Trenton Titans.
Rick and his wife, Debbie, have three children: Dylan, Sydney and Ryan.