Hockey Operations & Front Office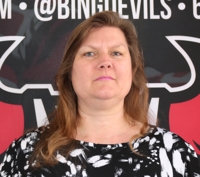 Janette Kemmerer
Finance Coordinator
Phone:
607-722-7367
E-mail:
Janette is in her second season with the Devils, after joining the Binghamton Senators prior to the 2012 season.
She previously worked for Progressive Dental at the front desk for a short time before landing with the Senators. Before that, Janette worked from 2008-2011 at Vestal Nursing Center as a Unit Secretary for six units and at The Haworth Press from 1989-2008. Janette began in the shipping department moved to the advertising department, the order entry department, customer service, and finally to the accounts receivable department.
Janette lives in Harpursville, NY with her husband, John, and son, Luke. She enjoys boating, four wheeling, snowmobiling, reading, and spending time with my family.