News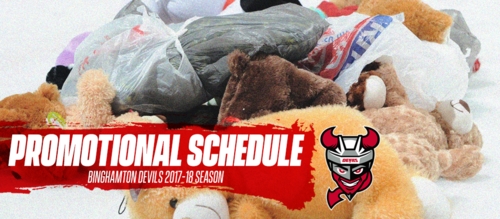 09/19/2017 3:59 PM
-
BINGHAMTON, NY – The Binghamton Devils today announced the team's 2017-18 season theme nights and promotional calendar, including Devils Opening Night, Trick-or-Treat Night, Veteran/Remembrance Day, Teddy Bear Toss, New Year's Eve, and many more. Single-game theme night tickets are available for purchase at www.binghamtondevils.com/schedule/game-promotional-schedule/.
The Devils will host Magnet Schedule Giveaway at the Home Opener on October 7 against Bridgeport. Additionally, kid's 12 and under will get into the October 27 game for FREE to Trick-or-Treat. The following night, October 28, fans can test their Halloween-themed karaoke skills during Scary-oke Night to win prizes. Devils fans won't want to miss Guaranteed Win Night against Belleville on January 5. When the Devils win, fans can use their ticket from that game to get a FREE ticket to the Wednesday, January 10 game against Syracuse.
Additionally, be sure to check out Dr. Seuss' Birthday, Super Mario Day, Prince & Princess Night, Mascot Madness, Star Wars Night, Teddy Bear Toss, Winter Olympic Kickoff, Undie Sunday, along with many more!
Giveaway nights for the 2017-18 season include a Magnet Schedule presented by the Binghamton Hockey Booster Club, Hat Giveaway presented by Robert's Eyecare, Thunder Stick Giveaway presented by Preferred Mutual, ThunderFan Giveaway presented by Mike Kolcun Insurance, and more to be added soon!
Full promotional schedule:
Oct. 7th - Opening Night / Magnet Schedule Giveaway
Oct. 21st - Miracle on Ice
Oct. 27th - Devil's Trick-or-Treat Presented by Stop DWI
Oct. 28th - Scary-oke Night
Nov. 4th - Appreciate the Arts Night
Nov. 11th - Veteran/Remembrance Day
Nov. 18th - Military Appreciation Night Presented by Lockheed Martin
Nov. 22nd - Pre-Thanksgiving Game
Nov. 25th - First Responders Night / ThunderFan Giveaway – Mike Kolcun Ins.
Dec. 8th - Teddy Bear Toss Night
Dec. 9th - Drug/Alcohol Awareness / Superhero Night Presented by Broome County Drug Free Communities
Dec. 16th - Jumanji Night
Dec. 27th - Western Wednesday Presented by Texas Roadhouse / Kid's 12 & Under Receive FREE Kid's Meal from Texas Roadhouse
Dec. 31st - New Year's Eve
Jan. 5th - Guaranteed Win Night
Jan. 6th - Pucks & Paws Presented by Johnson City Vet Hospital
Jan 10th - Career Fair Presented by EBI
Jan 13th - Mascot Madness
Jan. 20th - Star Wars Night
Feb. 2nd - Memorabilia Auction – Broome Sports Foundation / Howard Hanna Night
Feb. 3rd - Memorabilia Auction – Broom Sports Foundation
Feb. 7th - Winter Olympic Kickoff
Feb. 17th - Random Act of Kindness Night / Heart Cup
Feb. 23rd - Power to the Purple DIFD w/ Post Game Movie Presented by Reality Check
Feb. 24th - Hat Giveaway – Roberts Eyecare
March 4th - Dr. Suess Birthday / Hockey Weekend Across America
March 9th - St. Patty's Day Game / Vuvuzela Giveaway – United Methodist Homes
March 10th - Super Mario Night
March 24th - Faceoff Against Cancer Presented by Lourdes / Thunder Stick Giveaway
March 25th - Undie Sunday
March 30th - Pirate Luau Party
March 31st - Prince & Princess Night – ThunderFan Giveaway – Mike Kolcun Ins.
April 6th - Autism Awareness Night
April 14th - Fan Appreciation / Zoo Night
Single-game tickets are on sale now at the Binghamton Devils' executive offices, the Floyd L. Maines Veterans Memorial Arena box office, and all Ticketmaster outlets.
For more information, including pricing, benefits, and much more, visit http://www.binghamtondevils.com/ or call the Devils front office at 607-722-7367.
Stay current with the latest team news by visiting www.binghamtondevils.com. Follow the Devils all year long on Facebook (/bingdevils), Twitter (@BingDevils), Instagram (@bingdevils), Snapchat (@bingdevils), and the team's Youtube channel (/BingDevils).