News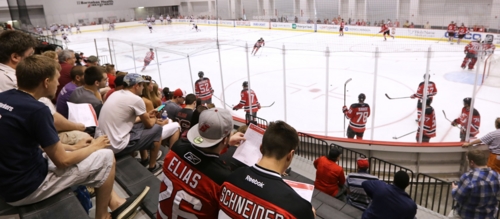 07/06/2017 1:20 PM
-
BINGHAMTON, N.Y. – The New Jersey Devils have announced the schedule and roster for their 2017 Development Camp that will get underway Tuesday, July 11 inside RWJ/Barnabas Health Hockey House at Prudential Center. The camp features 33 players (four goaltenders, nine defensemen and 20 forwards).
The Devils will have their last four first-round picks (John Quenneville, Pavel Zacha, Michael McLeod and this year's first-overall selection, Nico Hischier). In addition, eleven players from the Devils' second and third-round draft choices from 2013-2017 will also participate.
Forwards Quenneville, Zacha, Blake Speers, Miles Wood and defensemen Steven Santini and Michael Kapla will attend camp and played in NHL games last season.
The first nine of New Jersey's 11 overall selections from this past June's 2017 NHL Draft will also be in attendance.
Wednesday's 3-on-3 scrimmage is still open to the public, based on availability. To RSVP fans can go HERE.
32. MICHAEL KAPLA - Defenseman
33. NICO HISCHIER - Forward
34. STEVEN SANTINI - Defenseman
37. PAVEL ZACHA - Forward
41. MICHAEL McLEOD - Forward
42. NATHAN BASTIAN - Forward
45. JOSHUA JACOBS - Defenseman
47. JOHN QUENNEVILLE - Forward
48. YAROSLAV DYBLENKO - Defenseman
49. JOEY ANDERSON - Defenseman
51. BRANDON GIGNAC - Forward
52. BRANDON BADDOCK - Forward
54. RYAN KUJAWINSKI - Forward
55. KEN APPLEBY - Goaltender
57. REILLY WALSH - Defenseman
58. JESPER BOQVIST - Forward
59. FABIAN ZETTERLUND - Forward
60. EVAN CORMIER - Goaltender
61. AUSTIN CANGELOSI - Forward
62. NIKITA POPUGAEV - Forward
63. JESPER BRATT - Forward
65. GILLES SENN - Goaltender
67. MARIAN STUDENIC - Forward
68. COLTON WHITE - Defenseman
70. MACKENZIE BLACKWOOD - Goaltender
71. COLBY SISSONS - Defenseman
72. ROBERT CARPENTER – Forward
73. JOCKTAN CHAINEY - Defenseman
74. BLAKE SPEERS - Forward
76. JEREMY DAVIES - Defenseman
77. AARNE TALVITIE - Forward
78. NICOLAS GUAY - Forward
Full and half season memberships are available now and fans can score a FREE ticket to a New Jersey Devils NHL game this season. In addition, the Binghamton Devils have released the NEW Devils Dozen Memberships.
Stay current with the latest team news by visiting www.binghamtondevils.com. Follow the Devils all year long on Facebook (/bingdevils), Twitter (@BingDevils), Instagram (@bingdevils), Snapchat (@bingdevils), and the team's Youtube channel (/BingDevils).