News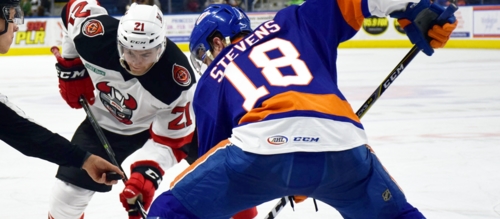 12/30/2017 8:56 PM
-
Photo: Bridgeport Sound Tigers
BRIDGEPORT, CT – The Binghamton Devils were unable to solve goaltender Christopher Gibson as the Bridgeport Sound Tigers came away with a 5-0 win inside Webster Bank Arena in front of 3,338 fans.
After no scoring in the first period, the Sound Tigers converted on three goals in the second for a three-goal lead heading into the third frame. The scoring started just 0:34 into the period courtesy of Josh Ho-Sang. Travis St. Denis sent a pass from below the goal line to Ho-Sang who fired a one timer by the pads of goaltender Ken Appleby for his fourth of the year. Ho-Sang's goal was assisted by St. Denis and Connor Jones.
The Sound Tigers added to the lead 3:15 into the period. Seth Helgeson took a shot on net from the left point that Kyle Schempp deflected at the top of the crease, by the glove of Appleby. Schempp's goal was his first with assists from Helsgeson on the original shot and Mitchell Vande Sompel for the 2-0 lead.
The lead turned to three as Ryan Bourque beat Appleby on a shot from below the hash marks. Tanner Fritz brought the puck down the ice and in behind the net where he found Bourque waiting to let the shot go for his fourth goal of the year. Fritz and Kyle Burroughs recorded the helpers and the Sound Tigers took a 3-0 lead into the third period on the goal that came with 0:13 to go.
Bridgeport added a pair of goals in the third period for the 5-0 win. Fritz scored his 10th of the year at 2:04 and St. Denis finished the scoring with his seventh of the year at 7:45 on a one timer from the right wing circle on the power play.
Appleby stopped 27 shots in the loss and Christopher Gibson came away with the shutout, denying all 19 shots he faced.
The Binghamton Devils return tomorrow, December 31 at 6:05 p.m. to battle the Syracuse Crunch in the New Year's Eve game. To celebrate the new year, the Devils will be passing out noisemakers at the game. Additionally, fans will have the chance to compete in the money drop and enter to win the game, Broome-Opoly, at the UHS Fan Zone behind section 15. Call the Devils' front office at 607-733-7367 for more information.
For more information, including pricing, benefits, and much more, visit the Devils website at binghamtondevils.com or call the Devils front office at 607-722-7367.
Stay current with the latest team news by visiting www.binghamtondevils.com. Follow the Devils all year long on Facebook (/bingdevils), Twitter (@BingDevils), Instagram (@bingdevils), Snapchat (@bingdevils), and the team's Youtube channel (/BingDevils).