News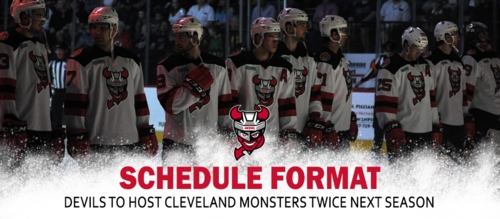 05/11/2018 7:22 AM
-
BINGHAMTON, NY – The Binghamton Devils announced home schedule format for the 2018-19 season, including two games against the North Division's newest addition, the Cleveland Monsters.
Below is how many times the Devils will host each team at Floyd L. Maines Veterans Memorial Arena:
Wilkes-Barre/Scranton – 2
The Devils will open up the 2018-19 season at home on Saturday, October 6 at 7:05 p.m. Fans still have time to secure their seat to a 2018-19 New Jersey Devils NHL game at Prudential Center for free! CLICK HERE
For more information, including pricing, benefits, and much more, visit the Devils website at binghamtondevils.com or call the Devils front office at 607-722-7367.
Stay current with the latest team news by visiting www.binghamtondevils.com. Follow the Devils all year long on Facebook (/bingdevils), Twitter (@BingDevils), Instagram (@bingdevils), Snapchat (@bingdevils), and the team's Youtube channel (/BingDevils).